MEMRISYS 2023 Final Program, Book of Abstract for Oral Presentations and Posters, Booklet and Newletter are available for download.
We are pleased to announce the list of confirmed plenary/invited speakers. This speaker list will be updated continually.
Plenary Speakers
Leon Chua, University of California, Berkeley, United States
Saptarshi Das, Penn State University, United States
Tuo-Hung (Alex) Hou, National Chiao Tung University, Taiwan
Heike Riel, IBM Research, Switzerland
Ronald Tetzlaff, TU Dresden, Germany
Elisa Vianello, CEA-LETI, France
Wilfred G. van der Wiel, University of Twente, The Netherlands
Plenary Round Table about "History of Memristors"
Masakazu Aono, National Institute for Materials Science (NIMS), Japan
Leon Chua, University of California, Berkeley, United States
Rainer Waser, RWTH Aachen, Germany
Invited Speakers
Stefano Ambrogio, IBM-Almaden, United States
Chiara Bartolozzi, IIT, Genova, Italy
Simon Brown, University of Canterbury, New Zeland
Yoeri van de Burgt, Eindhoven University of Technology, Netherland
Shinhyun Choi, KAIST South Korea
Erika Covi, Namlab, Germany
Paolo Fantini, Micron Semiconductor, Italy
Elliot Fuller, Sandia National Laboratories, USA
Cheol Seong Hwang, Seoul National University, South Korea
Suhas Kumar, Sandia National Laboratories, USA
Zdenka Kuncic, Univeristy of Sydney, Australia
Duygu Kuzum, University of California, San Diego, USA
Ming Liu, Institute of Microelectronics, Chinese Academy of Sciences, China
Stephan Menzel, Research Center Jülich, Germany
Gianluca Milano, INRIM, Italy
Frank Mizrahi, Thales Group, France
Melika Payvand, University of Zurich, Switzerland
Damien Querlioz, CNRS- Université Paris Saclay, France
Andrea Redaelli, STMicroelectronics, Italy
Abu Sebastian, IBM, Switzerland
John Paul Strachan, Peter Grünberg Institute (PGI-14), Forschungszentrum Jülich GmbH, Germany
Bernardo Spagnolo, Università degli Studi di Palermo, Italy
Manan Suri, IIT, India
Hirofumi Tanaka, Kyushu Institute of Technology, Japan
Kazuya Terabe , National Institute for Materials Science, Japan
Marc Tornow, TU Munich, Germany
Ilia Valov, Forschungszentrum-Jülich, Germany
Huaqiang Wu, Tsinghua University, China
Qiangfei Xia, University of Massachusetts Amherst, United State
Suin Yi, Texas A&M University, USA
Bilge Yildiz, MIT, USA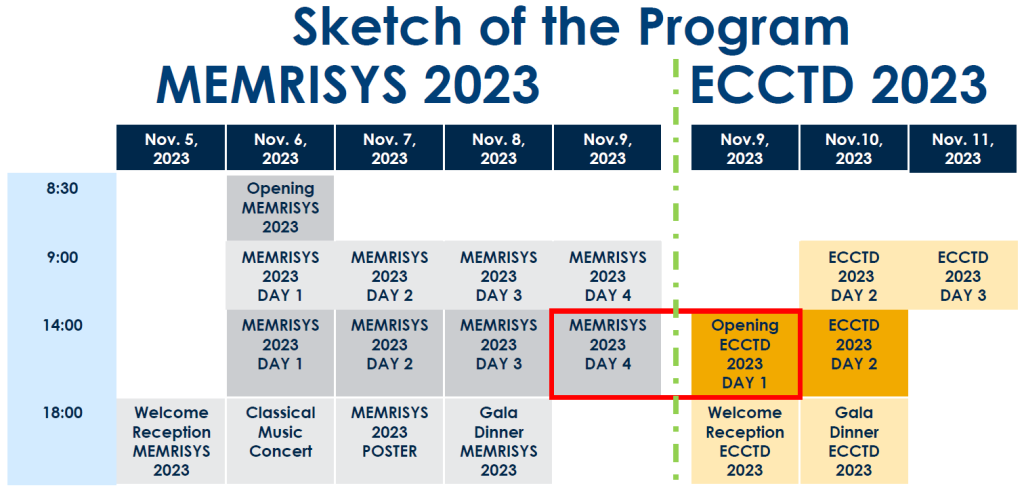 MEMRISYS 2023 is followed by the European Conference on Circuit Theory and Design (ECCTD 2023) that starts on Thursday, Nov. 9, 2023 afternoon and ends on Saturday, Nov. 11, 2023 morning. The last technical Sessions (DAY 4) of MEMRISYS 2023 will be in parallel with the Opening and the first Sessions (DAY 1) of ECCTD 2023.
Although MEMRISYS 2023 and ECCTD 2023 have separate Technical Program and Registration fees, all participats are kindly invited to join both conferences spending the whole week in Torino!
Please check ECCTD 2023 website for more information.
Participants interested to attend the ATP Finals in Torino (Nov. 12-19, 2023) are invited to check ticket availability here.